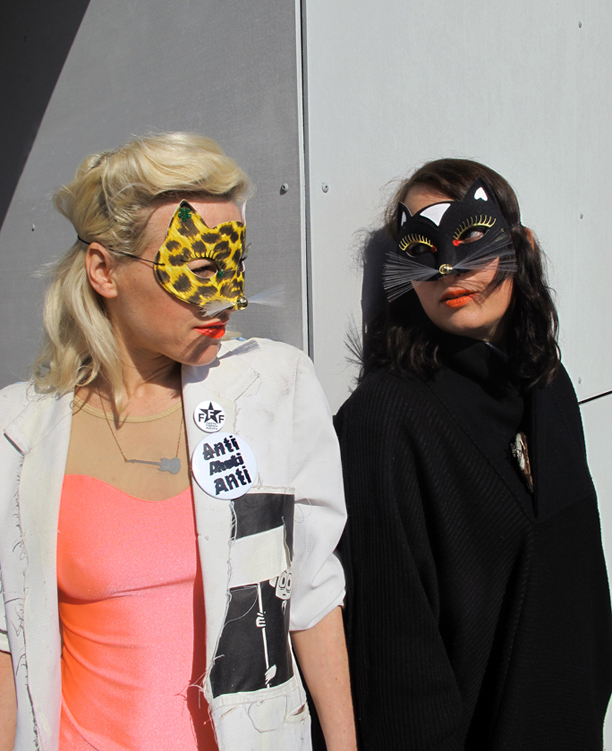 Above: Tim Groen: Jojanneke and Femke, Amsterdam.
"For many designers it's a given that they do not use fur," says Femke Dekker, curator/DJ, and partner, along with DJ Jojanneke Wannabeastar, in the Amsterdam-based initiative, Fur Free. "By all means, approach these designers," she continues, and urges fellow fashion activists: "Because they might never mention their fur apprehension in a press release, but you can be that platform for them." The Fur fighting ladies of the Amsterdam underground are continuously evolving and improving their approach; they have vowed to never repeat themselves, because predictability is lethal when you need to reach the design community. An elaborate display of fur free fashions by Dutch designers was staged in the 19th century indoor botanical gardens of the Amsterdam Zoo. Amsterdam International Fashion Week will never be the same, much to the chagrin of the fur industry, which hilariously–and pathetically–attempted to stage a "pro-fur protest" at the Fur Free Fashion exhibition opening. I sat down to talk about progress with Femke and Jojanneke, in between fashion weeks.
Tim Groen: With AIFW SS2011 behind us, on a scale of 1 to 10, how would you rate the success of last season's Fur Free event?
Femke Dekker & Jojanneke Wannabeastar: (in unison) 13! (laugh).
FD: Because we're both pretty convinced of our aesthetic and our production capabilities, I think we knew we'd be creating something beautiful. But without an audience that doesn't mean anything. The opening party and the exhibition saw throngs of people, and tons of attendees—including some fur-wearers!—told us that they were massively impressed with this Fur Free event.
JW: Every single fashion blog wrote us up favorably, which is major, and we weren't really expecting that to happen. Of course we had been working on this show for two months, so when everything comes together, and looks fantastic on the actual evening, because you've approached the right people to work with you–from the exhibited designers to the goodie bag sponsors–that's when the level of teamwork you just experienced, sinks in.
TG: Do you think that you changed the opinion of people who previously had no particularly negative connotation with fur?
JW: Well, the goal of the exhibition is encourage people to consider their actions; to question how we deal with the environment—what kind of choices we make. Ideally they'll start wondering: "Why is this so important?" And while we specifically target the unethical fur industry, it's just a part of a broader call for consumer consciousness. When photographer Erwin Olaf checked the event out, he told me, "You've got me thinking about everything I'm consuming," I felt quite pleased with myself, because that's exactly it!
FD: Months ago, in the previous season, we had nothing but flyers; it was a bare-bones manifestation of what we want to do. People must have been thinking, "Oh, those two crazy chicks with their flyers, dabbling in the margins of activism. Whatever. Let's see what they can do…" So I think that everybody was completely blown away by what we did in season II. Blown away by the fact that we produced a legitimate exhibit, one that could hold its own in comparison to any other event. This was the season that made it clear that we are being taken seriously by the press, as well as by the fashion industry.
TG: So going by that remark, and knowing that you have plans galore, I guess it's safe to assume you'll keep growing…
FD: Because of the impressive level of individuals that wants to be affiliated with us, we were able to turn the tables 100%. Instead of us demonstrating at some fur show, we have the fur industry protesting in front of our doors, with their sad little banners! The hilarious difference is that they had to pay their protesters! But yes, we will continue to grow because we made a choice to be accessible. Rather then calling for rough, loud activism, we want to present something intriguing and beautiful.
JW: Not that there's anything wrong with loud anti-fur activism, but we're about something else at Fur Free.
TG: Finally, any tips for other Fur Free activists who want to be heard by the fashion industry?
JW: In order to be heard by fashion folks, emphasize the not using of fur, rather then the cruelty behind fur. Shifting the emphasis in this way makes your point much more palatable. Create a counterpoint to the violence that is fur, collect names and gather likeminded people and mount a show, or publish a magazine or something. We all know that using fur is morbid and dumb, but there's a time and a place to use that angle. For something like this, it's totally about a professional, creative and productive approach.
FD: You're trying to reach an audience that is conceptually and visually jaded. They aren't receptive to stories about baby foxes in traps, or bloody seal cubs. What they are receptive to is Fashion! So offer them something from within their own discipline, something that feels relevant to them.
Links:
>Fur Free, the site.
>An impression of the first Fur Free exhibition in Amsterdam.
>The accompanying print-publication.
>My Little Underground; Femke's site.
>Wannabeastar.DJ, Jojanneke's site.
>Why no fur? Good question. Educate yourself and get busy!